Uşak University Start Up Consortium Project Cooperation Continues by Growing
The protocol meeting for the second term of Start Up Erasmus+ National Mobility Consortium which is under the coordination of Uşak University and accepted in partnership with the Afyonkarahisar Health Sciences, Ankara Hacı Bayram Veli, Eskişehir Technical, Gaziantep Islam Science and Technology, Kayseri, Konya Technical, Kütahya Health Sciences, Samsun, Trabzon and Ankara Science Universities was held on February 28 with the participation of the vice-rectors of the universities and the representatives of the International Relations Office. The meeting started with the project partners signing the second term protocol of the Start Up Erasmus+ National Mobility Consortium.
Second Term of Uşak University Start Up Consortium Project Has Startet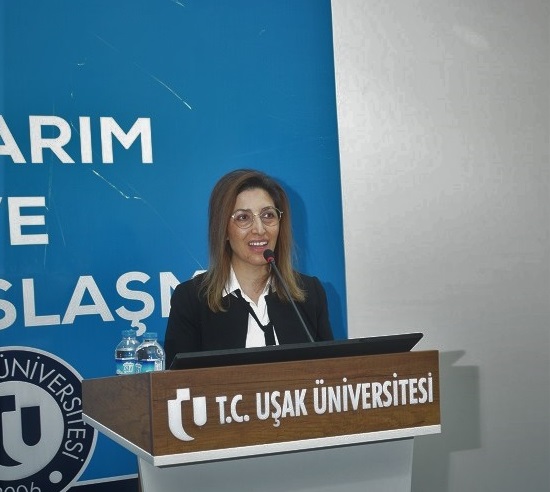 After the signing ceremony, Uşak University International Relations Office General Coordinator Asst. Prof. Dr. Özgür Tarhan made a speech. Tarhan gave information about the activities planned by the partner institutions within the scope of the project, the projected mobility between the partners and the distribution of grants.
Speaking at the opening of the meeting, Uşak University Rector Prof. Dr. Ekrem Savaş stated that the Start Up Consortium project was entitled to receive a grant in order to increase the institutional capacities, the number of mobility, the amount of grants of the Erasmus offices of the newly established universities in the 2021 project application period, and to lay the groundwork for new projects with the synergy created by the coming together of different universities. prof. Dr. Savaş said, "We are acting together with 11 universities in this project. We had to hold the protocol meeting of this project online under pandemic conditions. Thank God that we survived those days to a great extent and we had the honor of meeting with you, our dear friends. In order to continue our cooperation in the 2021-2027 new Erasmus period, together with our universities that took part in the first project, the teams of Ankara Science, Ankara Hacı Bayram Veli, Gaziantep Islam Science and Technology, Kayseri, Samsun and Trabzon Universities were also included in the consortium. I hope that this partnership, formed by 11 universities in total, will continue and expand the national and international collaborations that started with the first term project, with our second term project. I pray to the Almighty God that these signatures we will put on behalf of our institutions will be beneficial." said.
Making a presentation about the second term project at the meeting, Uşak University Erasmus Institution Coordinator Lect. İbrahim Uz's speech, ideas were exchanged on the activities planned for the new period. The meeting ended with the good wishes and wishes of the participants.
After the meeting, Rector Prof. Dr. Ekrem Savaş showed the representatives of the project partner universities about the Bir Eylül Campus. Visiting Uşak University Leather, Textile, Ceramics (DTS) Design Application and Research Center, the guests were informed about the activities of the DTS Design Center.